It's time to look back at year 2017 for my photographic work: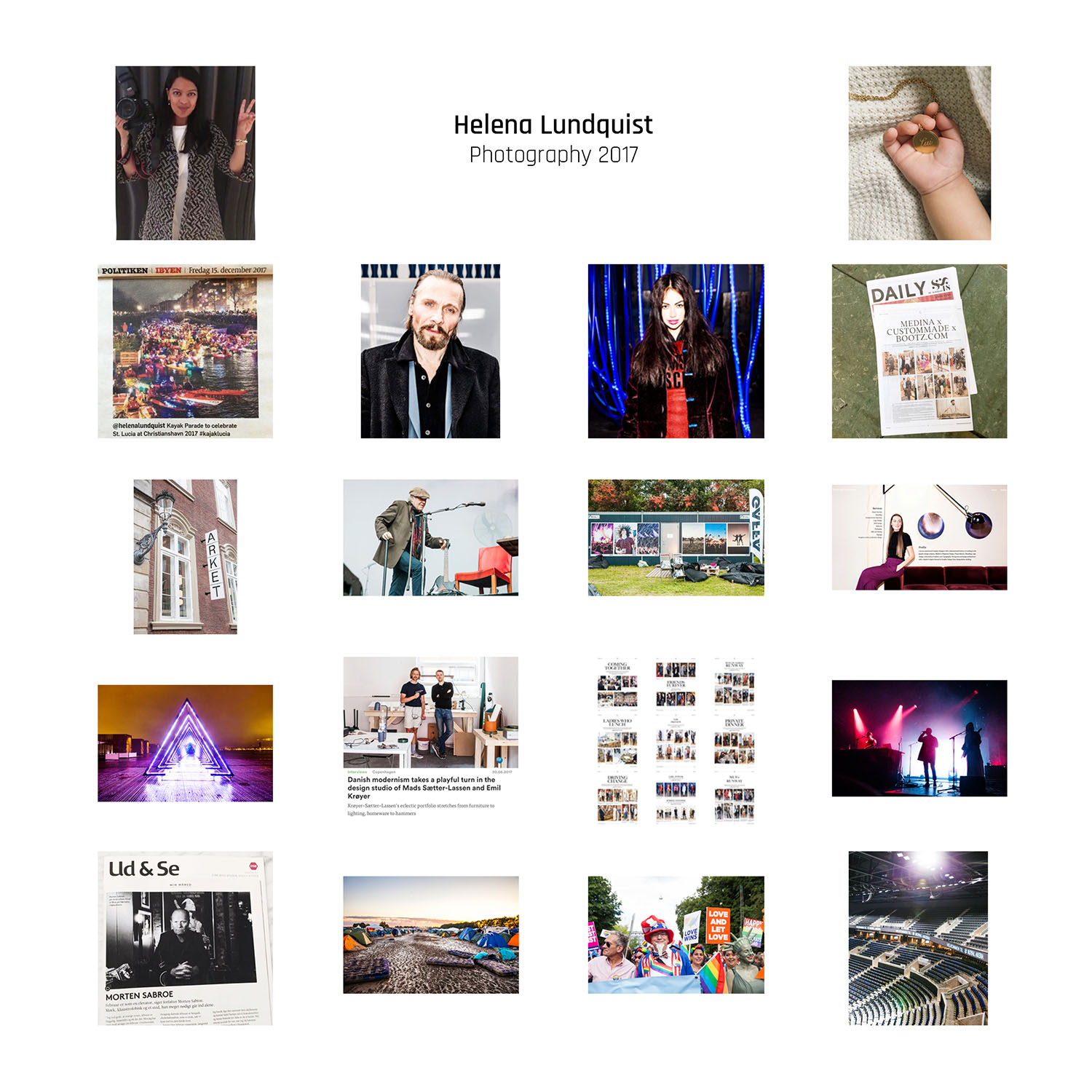 This summer I covered two festivals: Roskilde Festival and Musik i Lejet.
Roskilde Festival: This year was my 10 year of anniversary and I worked for GAFFA magazine, Denmark's biggest music magazine, where I came on the frontpage of the website with the text "A muddy magical Roskilde Festival – GAFFA's photographer Helena Lundquist was on the last day of the festival shooting some great vibe"
Beside that the GAFFA office in the Backstage Village was covered by my photos.
I also shot the concerts of Kim Larsen in Søndermarken and Blue Foundation at Musik I Lejet – Blue Foundation reposted the photos.
I was again photographing Copenhagen Fashion Week to their daily newspaper "The Daily", Social Zoo, DANSK and Darling Creative Studio.
6 portraits was published in DSB – Ud & Se of the entrepreneur/director Martin Thorborg and the writer/journalist/author Morten Sabroe in articles about "My Month" and 4 portraits to articles about education.
I was covering Copenhagen Pride, the "ARKET" store opening in Copenhagen with photos and instastories, Royal Arena and portrait of the talented graphic designer Marie Brodersen and did a SONOS x FvF portrait / video of Danish Designers Emil Krøyer and Mads Sætter-Lassen about their view on design and favorite tunes.
The newspaper Politiken printed one of my photos from Kayak parade to celebrate St. Lucia's Day at Christianshavn.
What an amazing year! – I'm looking forward to another busy and exciting 2018 beside my amazing job as webmaster at Scoop Models.
Beside all the work this year I became a mother to a little boy – the most amazing ever 
LOVE
Helena
#helenalundquist @helenalundquist